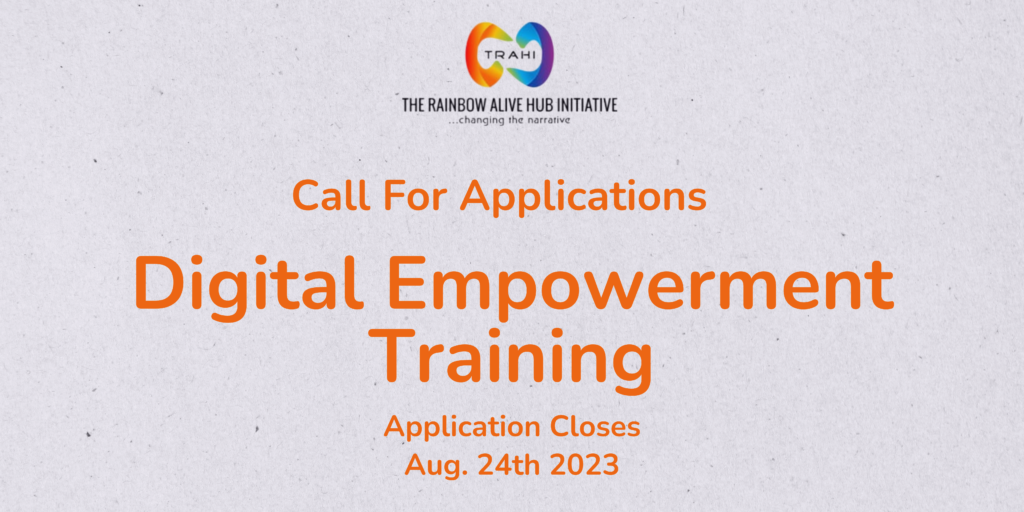 Overview
The Rainbow Alive Hub Initiative (TRAHI) is a non-governmental organization committed to promoting and protecting the rights of LGBTQI+ individuals in Nigeria. TRAHI is implementing a Digital Empowerment Training, which aims to enhance the socio-economic capacity of LGBTQI+ persons by providing digital technology-based skills training.
Through this initiative, we aim to empower selected LGBTQI+ participants, enabling them to navigate the digital landscape, acquire valuable skills, and access new employment and entrepreneurial opportunities. Ultimately, the project seeks to contribute to broader development outcomes, such as improved employment prospects, economic stability, and a more prosperous state and country. This aligns with the United Nations Sustainable Development Goals, specifically SDG 1 (No Poverty) and SDG 8 (Decent Work and Economic Growth).
The Digital Empowerment Training is a three-month-long virtual intensive program designed to empower LGBTQI+ persons in Nigeria with the skills and knowledge to utilize digital technology to improve their lived experience.
Digital Fields
Graphic Design
Blogging & Content Creation
Selection and Eligibility Criteria:
Selection for participation in the DET will be conducted as a merit-based, open competition. A selection panel will review all eligible applications. The chosen semi-finalists will then be interviewed before a final selection is made and an invitation to join the program is issued.
Selection panels will use the following criteria to evaluate applications:
Good communication skills
Aged between 21 and 35 years
Must Identify as LGBTQI+ and live in Lagos or Ogun state, Nigeria
Must have a demonstrated knowledge, interest, and experience in the selected digital field.
Own a laptop and have computer literacy
Location:
Lagos and Ogun States (virtual)
Duration
A 2-month virtual training and mentorship session (September 2023 to November 2023)
To Apply
Send your resume or Curriculum Vitae in MS – Word format/PDF, saved in your name, a 200-word "Statement of Interest" indicating the "importance of your participation in this program and your chosen field," as well as evidence of your experience in the chosen field.
Deadline for submission is 25th August 2023. (Postponed to 30th, August)